50 Book Challenge
This year, I decided I'd do the 50 Book Challenge, a classic for those who think they read a lot until they physically keep track of it and realize they're wimps. I'm one of those people. I thought I read books left and right, but damn do I feel inferior now. It's April, and I've only read eight so far. Pathetic. This challenge probably won't end well…
Here's a list of the books I've read this year in the unattainable hopes of succeeding at the challenge.
How to Win at Feminism by Reductress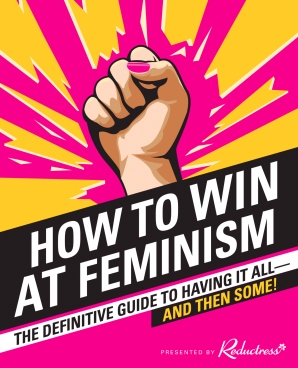 A book made entirely out of sarcasm is the book for me. Basically, the website Reductress has written a book that makes fun of the weak form of feminism that seems to prevail. I'm talking about the kind that gets abused by companies to sell products, or by celebrities to gain popularity. I think I've heard it referred to as "bubblegum feminism". Reductress tears this perversion of an important movement into pieces, letting everyone know that actions speak louder than words.
Scandalous Women by Elizabeth Mahon
I've already reviewed this book a couple weeks ago, but it was definitely a delightful read. I thought that it focused a little too much on white society women who were only scandalous when judged against their lovers, but I also read a lot of stories about some very interesting people. Worth a read.
Hausfrau by Jill Essbaum
Hausfrau is reminiscent of Anna Karenina, but set in the present in Switzerland. The protagonist feels completely isolated as an American expatriate living in a country where she knows nobody but her husband and doesn't understand the language. She has multiple affairs while her husband works at a Swiss bank and leaves her wanting so much more. Being inside her head was such a thought-provoking experience. She was a complex, multi-faceted character who felt the anxiety and boredom of her life intensely. A wonderful book, very moving.
The Bean Trees by Barbara Kingsolver
Originally, I borrowed The Poisonwood Bible from the library by this author. It's her best-known book that was already on my To-Read list, but I was going back to school before I could even pick it up. I have a friend who let me borrow The Bean Trees, however, and I read it during my week alone in my house. It was a great savior from mind-numbing boredom and talking to myself. It's ideas about family and responsibility is lovely. Taylor is at a diner in the middle of escaping her dead-end town when a Native American woman places a baby in her front seat and leaves. From that moment on, Taylor is a mother to the kid, going through all the struggles of having a child without any documentation. The book has a lot of themes that are extremely relevant to what's happening in the world right now.
Pachinko by Min Jin Lee
Again, I wrote a whole review of this book some weeks ago. It's a generational story about a Korean family displaced in Japan. They go through poverty, discrimination, and intense loss and somehow manage to hold themselves together. This book was perspective-changing, and I'd highly suggest reading it. Pachinko was also a different book by a Korean American, fulfilling some of my goals to diversify my reading this year.
Milk and Honey by Rupi Kaur
Kaur is one of those Tumblr poets, but she's extremely talented. This book has four parts, each one chronicling the stages of a doomed relationship. If you're going through a breakup or have been recovering from one, as I was when I read this, Milk and Honey might feel like someone finally understands the pain you're in while reminding you that things will get better. It's simplistic, with illustrations that hit you right in the heart.
7/8. Beloved and The Bluest Eye by Toni Morrison
These were books I'd heard so much about and was desperate to read. My English department has a class on Toni Morrison's books, but it didn't fit into my schedule. So, I've been doing my own little course on Morrison by reading the majority of her work. She's a prolific author, and stories like Beloved and The Blueset Eye refuse to shy away from incredibly difficult topics. The books make you uncomfortable while giving a rarely acknowledged perspective on slavery and racism in America. Morrison is another writer with a simplistic, honest style that makes you feel every word. These were a privilege to read, and I'll be reading more of Morrison in the future.